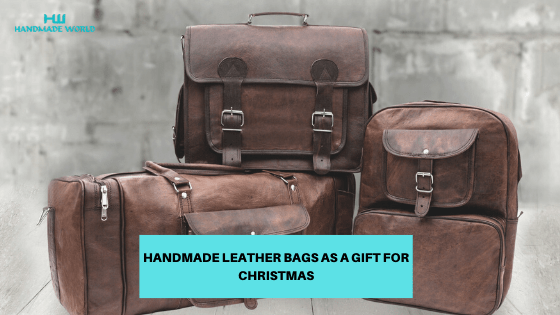 7 Reasons why you should choose handmade leather bags as a gift for Christmas
Christmas is celebrated by Christians all over the world they celebrate this day in honor of the birth of Jesus Christ in Bethlehem. There have been some traditions also associated with Christmas. They offer a gift to each other and also they decorate trees which are also known as the Christmas tree.
Gift-giving has been a favorite subject for studies on human behavior. Giving gifts is a surprisingly complex and important part of human interactions. It strengthens the relationship between the two people. It makes the bond stronger between family and friends it shows that you care and love your loved ones.
When you think of gifting then the handmade goods are really awesome. Handmade leather products are made with love, time and with the hands of experts. And if the handmade product is made from the leather then it is the best thing. Leather bags are not only durable enough but they are also a beautiful thing to gift. The two things which are always available with handmade leather bags are Art and Love.
7 Reasons why you should choose handmade leather bags as a gift to this Christmas.
Most people take the same stuff whenever they carry a bag. So they always make sure that they purchase a bag which fits their all essentials properly and also makes them feel stylish. Handmade leather bags are stylish and also they serve really well.
The classic look and premium quality of material combine with hand craftsmanship make the bags even more durable and long-lasting. You can use it whenever you want to be it meetings or outdoor events.
Leather bags have always been favorite items when it comes to durability. You can use your leather bags for a long time. And when you gift these handmade leather bags the other person remembers you.
Once you start using this bag you will also feel the quality of leather. And you will be getting compliments from others for using these classic bags. You will be more than happy to gift these or have these bags.
Leather is a natural fabric it's always important to have things that are made from natural fabrics, as human beings we need to be in contact with natural objects. So that we enjoy their quality.
With all the talk about leather being tough and unbreakable, one might begin to think that leather is similar to rock or wood. But that's obviously not the case. With time, leather becomes more and more flexible while keeping its shape and strength.
One significant fact about leather bags is that it never goes out of style. Leather bags can still look fashionable and stylish even after an extended period of time.
This Christmas you can gift for your loved one's beauty, durability, timelessness and trendiness all in one and that is handmade leather bags.
Visit Our Amazon Store and Explore the Handmade Leather Bags On Our Website – Shop Now